1xbit is not recommended due to questionable competence and integrity. See recommended sportsbooks here.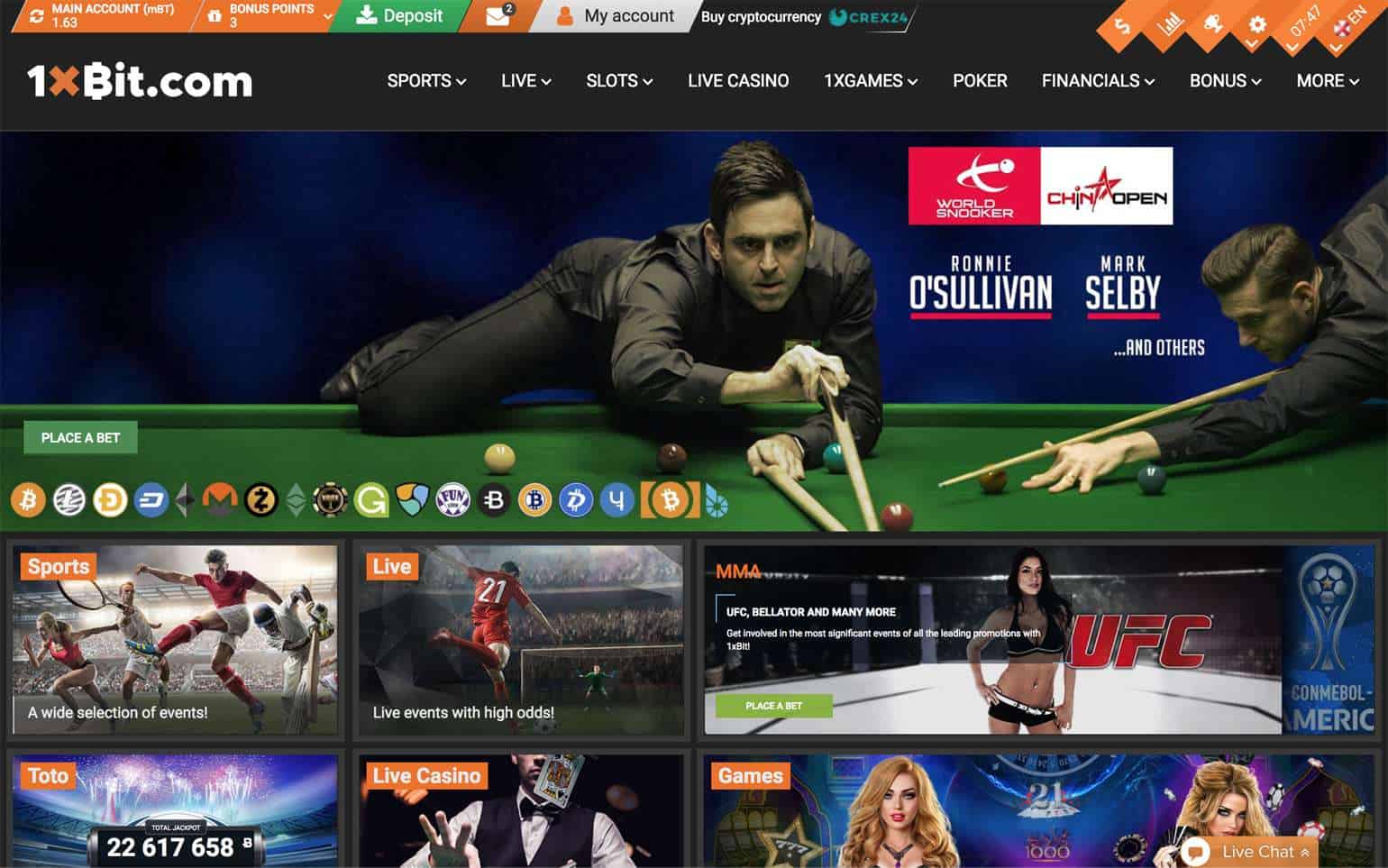 Established
2015
Located
Russia
Min bet
0.05 m฿
Max bet
8300 m฿
Currencies:
BCH
BCN
BTC
BTG
BTS
DASH
DGB
DOGE
ETC
ETH
GAME
LTC
QTUM
SIB
STRAT
TRX
XEM
XMR
XRP
XVG
ZEC
1xBit first ran a government currency sportsbook, 1xbet. Instead of just adding bitcoin transactions like a lot of government currency sportsbooks have, they took the right choice and made a stand-alone end-to-end crypto sportsbook.
There is a lot going on here
The sports betting is decent, everything else is bad.
User experience
The website is cluttered and clunky, trying to cram too many things into 1 place. There are too many options and they don't always work as expected.
We did not like it at first but it grows on you as you use it. You will not feel disorientated after you figure out where things are and how they work. The sports betting parts of the site are actually pretty cool.
The bet slip itself is an example of this, it has a way too many details and confusing options on it but after placing a few bets through it you get used to it.
1xBit has the same thing up at multiple URLs. The main one is 1xbit.com but they also use and link to things like 1x-bit.com and 1xcrypto.com where you login is preserved. This is confusing and insecure.
Odds
Sportsbook's overround: 5.08%
50:50 equivalent: 1.9
In general 1xBit's odds are mediocre however there are times when they are very good. Be sure to use the odds comparisons. You can get fantastic odds on the betting exchange because they only take a 1% commission. However, the liquidity is quite low making it hard to get large amounts in this way.
Range of bets
Range of sports, leagues and events: Best we have ever seen, from chess to sailing to reality TV shows and everything in between.
Range of bet types per event: Huge, hundreds of bet types available on major sports.
1xBit has the equal best range of bets of all sportsbooks.
Live betting
1xBit has a huge range of events and bet types available for in-play betting. The basics work well and there are nice features like live video streams, bet insurance and the ability to 1 click trade out of your bets by selling your bet slip. However, these extra features are a bit finicky and not always available.
Transactions
Unique deposit addresses: Not available.
Confirmations before bet: 6 for casino games, 1 for everything else.
Withdrawal time: Not instant but less than 1 hour.
Player to player transfer: Not available.
The minimum withdrawal is way too high, at 5 m฿! There is no withdrawal fee so this policy may have come about when bitcoin transaction fees were very high.
1xBit supports a huge range of 18 different cryptos!
Customer service
Customer service channels available: Live chat and email.
Speed of replies: Live chat usually reply instantly and they are fast to actually help. Emails are fast as well.
Accuracy of replies: Good if you are asking a question about sports betting on 1xBit and good for anything else. They have knowledge about crypto. Live chat will help you get your questions.
Real-life customer service test
Question: What is bet insurance and how does it work? How many confirmations does a bitcoin deposit need before it can be used to bet?
Answer:
The Customer can insure a bet in full or in part. Insurance can be bought for single bets and accumulators. Other types of bet cannot be insured.If a bet loses, the insured part of such bet will be refunded to the Customer. Deposit via Bitcoin may take up to 24 hours depending on the priority you have chosen. There is no confirmation limit however.
Notes: The first answer is good, the second is incorrect and shows a lack of understanding about bitcoin transactions. Even after I tried to explain that the number of confirmations is not a limit but rather a requirement they will have set, probably between 1 and 6, the customer service staff would still not get the correct information.
Privacy and security
Information required at signup: Email address.
2-factor authentication: Available.
Geo-targeting
Bettors in the United States of America are geo-blocked by 1xBit.
Bonuses
100% first deposit bonus up to 1000 m฿. The funds go into your account gradually as you bet and you can easily opt-out.
There are several different bonuses and special offers depending on your interests, like the accumulator of the day bonus if you are into multibets or special esports bonuses.
It's nice that the terms and conditions are explained fully and clearly.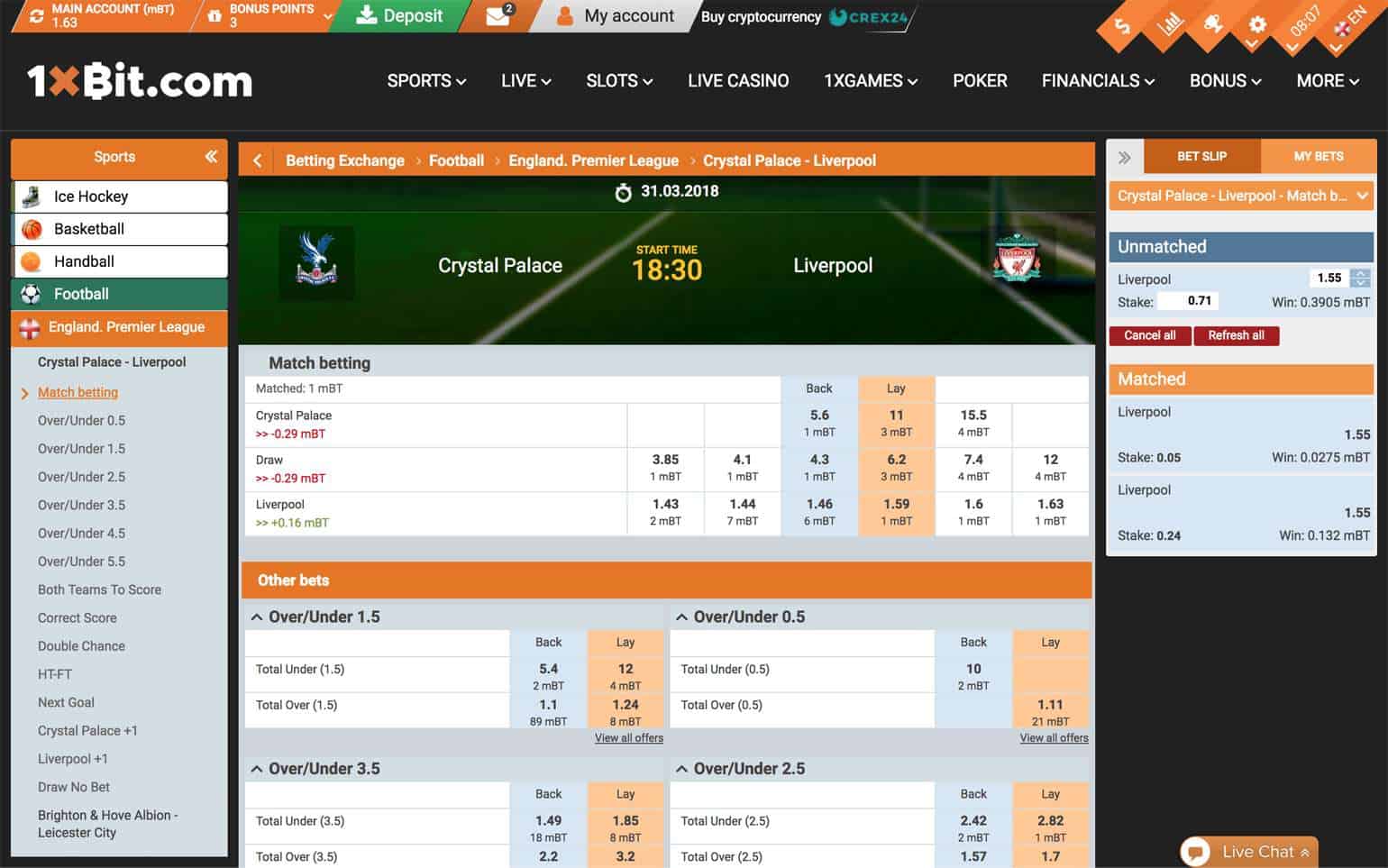 Overall
1xBit does not have the quality and polish of the top-ranked sportsbooks but it does have a lot of betting options that other sportsbooks don't have. When we have had a specific, less common, bet type we wanted to make, 1xBit has often been the only crypto sportsbook to offer it, and the odds have been good.
they have one of the best crypto betting exchanges and live betting is decent. In general, you won't have any problems sports betting here.
You are more likely to have problems in the casino, poker room and around the rest of the site, it's buggy and not as good as the sports betting.